Scatterbrain is what I am. I tend to lose things. I'm careless and out of excuses. This is in memory of the many things I'd love to get back. I've totally lost count but there are things I really could not just forget. Some got me in trouble big time.
My mom's wedding ring

Ipod touch

Samsung cell phone (SGH-E250)

HP laptop

a gold ring with ruby stones

Nokia cell phone (forgot the model)

a pair of emerald earrings

8 GB usb flash drive --- my files :(

a gold necklace

Bvlgari perfume (omnia amethyste) ---when it's my money, sayang gyud.

Mini-speaker

2 GB usb flash drive --- because once is not enough.

a white gold bracelet

Samsung cell phone (monte) --- third time is a charm.

Ipod shuffle

a crystal bracelet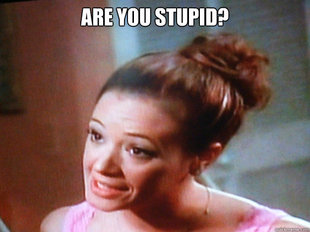 sodahead.com
This list is closed I hope. I'm calling it my "Matt Bomer" list by the way 'cause like him I really wish that they never went astray but they did. Haha! But gay or not he's hot ;) Nevertheless I'm facing two options now, I should either be just naked and not own anything or be not stupid and be careful with my things. Honestly, I'd rather choose the former but then I don't like jail. Plus I don't think the Victoria Secret is ready to introduce their latest angel yet. LOL So sticking with the latter would be a better idea.
Wow, this post really is a wake-up call for me. I just want to say to the precious ones in my
matt bomer
list that they may rest in peace…and your new owners suck!! Haha! As of April 8, 2013, 11:30 PM, I hereby declare that I shall never give more reasons for my
matt bomer
list to be open again.